The Horn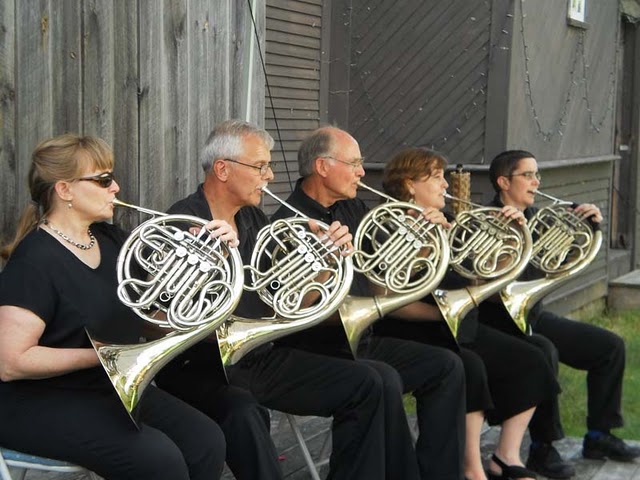 For obscure historical reasons, the instrument we play is often called the "French" horn by Americans. However, the instrument is actually based on a German design, and is more properly referred to as simply the horn (le cor in French, il corno in Italian, etc.). The International Horn Society has declared the horn to be the official name for the instrument, and that's what horn players themselves call it.
The horn is a conical instrument usually made of nickel-silver or yellow brass, with a bore that gradually increases in diameter over the length of the instrument. (By contrast, trumpets and trombones are cylindrical -- the bore is the same diameter right up until the bell flare.)
The horn, uniquely among the brass instruments, is played with the right hand resting inside the instrument's large bell. The original purpose of placing the hand in the bell was to allow the player to produce notes that were otherwise impossible on a valveless brass instrument. Early horn players discovered that they could flatten the pitch of a note by partially closing the right hand in the bell, and that they could raise the pitch a half-step by "stopping" the horn (closing off the bell completely with the hand). When valves were invented in around 1815, the horn player's right hand was already in use, so, unlike the other brass instruments, the horn was given valves operated by the left hand. On a modern valved horn, the right hand is no longer needed to fill in missing notes, but it is still used to influence sound quality, to help direct the sound forward, and to make subtle adjustments in tuning. The technique of hand-stopping, which causes a dramatic change in tone quality as well as pitch, is still used today as a special effect.
The normal range of the horn is from concert F, two and a half octaves below middle C, extending upward for more than four octaves. The instrument is longer (and has a lower fundamental pitch) than a trombone, yet we play it with a tiny little mouthpiece, and are routinely called upon to play way up high with the trumpets, often jumping up and down from one extreme of the horn's vast range to the other (okay, some of us live for that stuff). The horn is a challenging instrument to play, but for our money, no other instrument comes close to matching its beautiful sound.